BLACK FRIDAY
WEEKEND OFFER -
40% OFF
Extended until Monday 7th December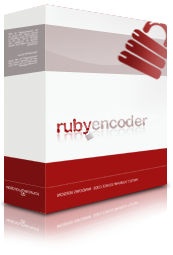 The RubyEncoder protects Ruby scripts by compiling Ruby source code into a bytecode format and this is followed by encryption. This protects your scripts from reverse engineering. Ruby scripts protected with RubyEncoder can be executed but cannot be used to extract Ruby source code as there is no source code remaining within the protected script in any form.


Sign up now and try a full version of our software for 14 days and see the benefits of encrypting your Ruby Code, absolutely FREE!



- Full support of Ruby 2.7

- Powerful GUI
- Protect Ruby on Rails
- Full Encryption guaranteed
- Lock to domains, IP Addresses
- Time limit your scripts



"

We have found RubyEncoder to be absolutely indispensable. We can reset assured knowing that our source code is safe and secure...

"

James Schorr, Enspiren Cons.
© Copyright 2020 rubyencoder.com. All rights reserved.